Money may be tight right now. Perhaps book sales aren't where you want them to be and you're wanting to find some quick and easy ways of earning money from home. Well, today I'm going to share some ways to work from your couch while making money from home.
I was talking to a buddy of mine a couple months ago and he told me that if he ever lost his job, he would never work at a fast food restaurant.
I kind of gave him that look that my boxer gives when he hears the garbage man….
My thought is that my family is more important than my pride. There is nothing I won't do to help my family.
But I digress. Don't worry, I'm not going to talk today about donating blood or plasma, although, depending on where you are in the world, those may be viable options for earning some side money.
What I'm going to talk about today is two ways of taking skills you already have and using them to start making additional income. Whether money is tight or you're just looking for a way to fight the boredom, these sites will allow you to start making money from home while doing work from your couch.
If there's a specific part of self publishing books that you really enjoy or that you're really good at, offer that as a service. But it doesn't have to be about self publishing books at all. Maybe you want to do some data entry into excel or transcribe YouTube videos for content providers. You can do all of that and a ton more on Fiverr and Upwork.
The best part, you don't have to choose just one platform. Create freelancer accounts on both sites.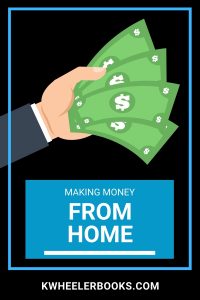 So, what types of projects are you thinking of doing on Fiverr or Upwork? Let me know in the comments. Who knows, I may end up being a future client.
Now, full disclosure, when you first start out on these sites, because you'll be a new freelancer, you'll need to be proactive on the projects that you want to bid on. You may even need to bid a little lower than normal, just to get those first few jobs. But trust me, once you get those first few projects and you do them successfully, the projects will start coming in more frequently.
Now, these sites do take a portion of the money that comes in, so be sure that you bid accordingly. But the good thing is that, by using these sites, the money is in escrow so you know you won't get stiffed after you've done the project.
The best part…you can accept or turn down projects based on your preference and even if, after a few projects, you want to stop freelancing, your account will always be there for times when you want to pick up some side projects again.
Take me for example, I haven't picked up a job since January 2019, but I still get requests and I know that if I wanted/needed to pick up a side project, I could just do a search, pick a project and because I have previous projects and a proven track record, I could snag a new job fairly quickly.
I'd love to hear what services you're thinking of offering. Let me know in the comments below.